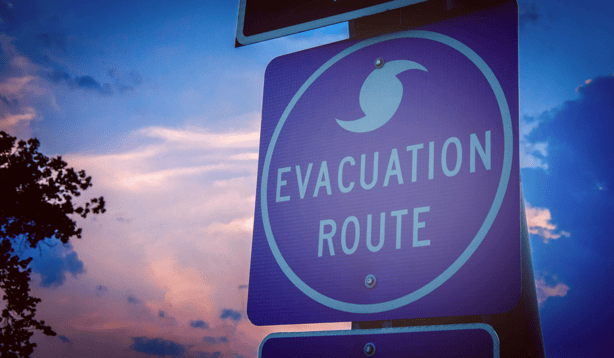 The 2020 hurricane season and COVID-19 are a pesky one-two punch for those of us living in hurricane zones. If you plan on evacuating this hurricane season, here are some things to keep in mind before leaving home.
Check local laws at your destination

Even as some states are seeing a decline in new COVID-19 infections, the virus continues to rage across the country and many states are currently peaking. To help curb the spread, some local governments have enacted strict quarantine laws for visitors entering their state from places that are experiencing a surge in new infections. There are also discrepancies among individual states regarding general coronavirus laws, such as those related to face coverings and public gatherings.
Check the local laws at your destination before setting out. Recheck them as you travel since the situation is fluid and laws are constantly changing. It's also a good idea to familiarize yourself with the rules at rest stops you'll visit along the way. You can look up COVID-19 regulations around the country here.
Prepare a safety kit
According to the Centers for Disease Control (CDC), if you may need to evacuate, prepare a "go kit" with personal items you cannot do without during an emergency. Include items that can help protect you and others from COVID-19, such as hand sanitizer with at least 60% alcohol, bar or liquid soap, disinfectant wipes (if available) and two masks for each person.
The safest ways to travel
As COVID-19 cases continue to grow, it feels like any venture outside your home is a considerable risk. If you choose to evacuate, it's important to recognize that some forms of travel are much safer than others.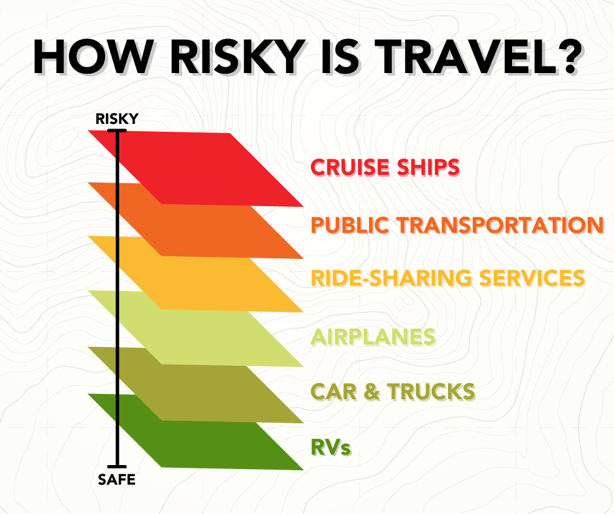 While staying home is always the safest bet, experts agree that if you must travel, driving is the safest route. RVs and motorhomes are an increasingly popular way to ensure safe travel, as they allow you to drive long distances with your own personal bathroom, kitchen and bedroom.
Evacuating to another household
If you plan on staying with friends or family during the hurricane, be sure to talk to them about how you can all best protect yourselves from COVID-19.
Consider if either of your households has someone who is at higher risk of developing severe illness from COVID-19, including older adults or people of any age who have underlying medical conditions. Make sure everyone knows what they can do to keep them safe from COVID-19.
Follow everyday preventive actions, including covering coughs and sneezes, washing your hands often, and avoiding touching your eyes, nose, and mouth with unwashed hands. Consider taking extra precautions for people living in close quarters.
Get your money right
Making financial preparations before evacuating will help you focus more on you and your family's safety when a storm hits.
Bring enough cash to handle immediate needs, as well as a checkbook to cover large expenses. Avoid long lines and possible branch closings by getting your cash as soon as possible.
Make sure that you are registered for online and mobile banking. Doing so will make accessing your money much easier during the storm. If you haven't already, sign-up for e-statements to ensure that your account statements arrive on time in case the mail service is disrupted by the hurricane. E-statements can also help to keep you safe if you're away from home for an extended period of time. A mailbox that's bursting at the seams with letters might attract thieves, who will be looking for bank statements, credit card offers and checks. Scammers are always on the prowl for documents that contain important, sensitive information.
Don't wait until a storm enters the Gulf. Hurricane-proof your finances today at www.LouisianaFCU.org/prepare.
Additional links for storm preparation:
Hurricane Preparedness | Tangipahoa Parish
Hurricane Preparedness | Ascension Parish
Hurricane Preparedness | St. Charles Parish
Hurricane Preparedness | St. John the Baptist Parish
Hurricane Preparedness | St. James Parish
Governor's Office of Homeland Security & Emergency Preparedness
Source: CDC
Like this article? Subscribe to our blog and receive weekly articles that will help guide you toward the best financial decisions for your unique situation.