Louisiana Federal Credit Union is excited to announce the recipients of its 2021 Ronald E. Thomas Memorial Scholarship.
Five graduating seniors in southeast Louisiana were chosen by the credit union to receive $2,000 each. The scholarship, named for the late Ronald E. Thomas, who served as a Louisiana FCU board member for more than 65 years, recognizes graduating high school seniors who demonstrate outstanding leadership and altruism in the community.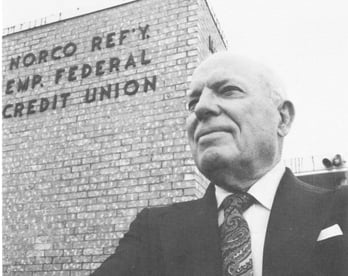 The scholarship honors the late Ronald E. Thomas for his local and national contributions to the credit union movement.
For many students, financial stress can make it difficult for them to achieve their highest potential in college. A 2019 national student financial wellness study found that 72% of college students experience financial stress, resulting in higher drop-out rates, health issues, and lower GPAs.
"Every student's story is different, but the financial gap in paying for college is consistent," said Rhonda Hotard, President and CEO at Louisiana FCU. "We offer the R.E.T. Memorial Scholarship to help reduce financial concerns for students and their families, so that they may focus on their educational goals and reach their full potential."
"I'm thankful to have this scholarship. It's going to help me a lot," said 2021 recipient Blakely Heltz. "I'm putting the funds in a savings account at Louisiana FCU just in case I need extra money."
Meet the 2021 Ronald E. Thomas Memorial Scholarship Recipients

Skye Taylor is a graduate of East Ascension High School, where she presided over the Ascension Red Cross Club, participated in National Honor Society, Beta Club and 4-H, was crowned Miss Donaldsonville Juneteenth, and taught disaster preparedness to elementary aged students as a Pillowcase Presenter — all while maintaining a 4.58 GPA. Skye is attending Southern University to study mechanical engineering. The best advice she has received about money is to have a budget and track your spending, because good money management will ultimately lead to a higher credit score.

Blakely Heltz is a graduate of St. Charles Catholic High School, where she was involved in student council, Beta Club, National Honor Society, softball, swimming, and volleyball. As a volunteer for the Cookies for Clause program, Blakely helped special needs children decorate cookies for the holiday season. Blakely is attending LSU to study kinesiology. The best advice she received about money is to save the money you work for, do not live outside of your financial means, and to put money aside in a savings account.

Thomas Chapman is a graduate of St. Charles Catholic High School, where he served as a student ambassador for four years, participated in Beta Club and National Honor Society, played on the basketball team, and served as a volunteer for the Special Olympics. Thomas is attending Southeastern University in the fall to major in business administration. The best advice he received about money was from his late grandfather, who taught him the importance of spending money wisely and paying himself first.

Emily Bradford is a graduate of Lutcher High School, where she served as captain of the varsity dance team, played on the the girl's varsity golf team, was honored as an academic all-​state performer, and cast as dance lead for several performances at To The Pointe Academy of Dance. Emily is attending LSU this fall to pursue her dream of becoming an occupational therapist. The best advice she ever received about money is to start saving while you are young.

Mia Schaubhut is a graduate of Lutcher High School, where she served as vice president of Beta Club, an officer of Spirit Club, and an assistant teacher at a local math and reading summer camp. She also lettered in varsity tennis. In 2020, Mia opened a private tutoring business that services three high schools and caters to all grade levels and subjects. Mia is attending Stanford University with a double major in education policy and mathematics. The best advice she has received about money is to always plan ahead for a rainy day.